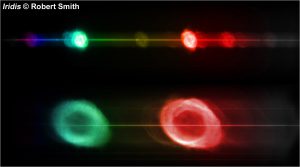 I am always proud of my hubby, Robert, and especially now, as he combined his love of photography (a special hobby of his) and astronomy and went one step forward and created something new to start conversations.
Did you know he won the Insight Astrophotographer of the Year 2016 award for the special category Robotic Scopes?
He was trying to convey not just the beauty of spectra (spreading light into different colors), but how much it can tell us about the object we are observing (what it's made of, what's going on, etc.).
He used data from a public archive of the Liverpool Telescope, a 2-meter robotic telescope on island of La Palma in the Canaray Islands, and combined imagery and spectra  to show off the beauty and the physics of two commonly photographed planetary nebulae (both readily seen from northern hemispheres): Cats Eye Nebula (NGC 6543 in Draco) and the Ring Nebula (M57 in Lyra).
Artistically arranged to show the colors of the rainbow, which helped inspire us to name the piece Iridis, which is latin for rainbow.
Nice writeup at the Liverpool Telescope website can be found here.