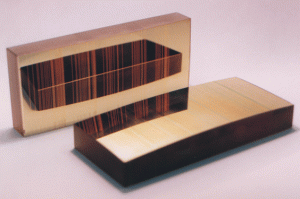 COHSI J & H Mask Mirrors
COHSI (PhD Thesis, 1998)
I was part of the early stages of OH Suppression, using optics to "suppress" specific wavelengths of emission from the Earth's atmosphere to lower the sky background to enable much deeper astronomy. I helped build the Cambridge OH Suppression Instrument over 1994-1998.
OH suppression in ground-based astronomy remains an on-going area of research. Advances in new types of suppression via fibers, gratings, and  novel photonics applications are being tried on the biggest ground-based telescopes to get that "extra edge" in sensitivity.
Kimberly Ennico
PhD Thesis (1998) University of Cambridge
My thesis project involved the design, construction and commissioning of a near infrared night sky suppressing spectrograph called COHSI. This instrument concept has since been evolved to a new instrument for Gemini North, called CIRPASS.
---
The following files are in gzipped postscript format for A4 paper.
Title (9k)
Dedication (2.5M)
Declaration (11k)
Acknowledgements (25k)
Summary (18k)
Contents (84k) pp. i-vii
Figure List (55k) pp. ix-xiv
Table List (6k) pp. xv-xvi
Chapter 1 Near Infrared Faint Object Spectroscopy (313k) pp. 1-14
Chapter 2 The Near Infrared Night Sky (598k) pp. 15-34
Chapter 3 OH Suppresion (556k) pp. 35-82
Chapter 4 Cambridge OH Suppression Instrument — Design (2M) pp. 83-134
Chapter 5 Cambridge OH Suppression Instrument — Optics (2.9M) pp. 135-174
Chapter 6 Cambridge OH Suppression Instrument — Masks (1M) pp. 175-202
Chapter 7 Cambridge OH Suppression Instrument — Cryogenics (1.6M) pp. 203-218
Chapter 8 Cambridge OH Suppression Instrument — Detectors (526k) pp. 219-246
Chapter 9 Cambridge OH Suppression Instrument — Performance (1M) pp. 247-292
Chapter 10 Future of OH Suppresion (204k) pp. 293-308
Appendix A NICMOS Camera Imaging System (621k) pp. 309-336
Appendix B The Art of Cryogenics (119k) pp. 337-344
Appendix C Acryonyms (15k) pp. 345-346
References (107k) pp. 347-356
Please use my email address Kimberly 'dot' Ennico 'at' nasa 'dot' gov if you have problems downloading these files or request further information about my PhD work.