I do really enjoy and embrace any opportunity to share what I am learning and create conversations through presentations, hands-on activities and, more recently, through blogs.
Here are some links to featured interviews and conversations
2017-04-06    NASA in Silicon Valley PodCast –
Kimberly Ennico Smith Talks About Pluto and Studying Space With A Flying Telescope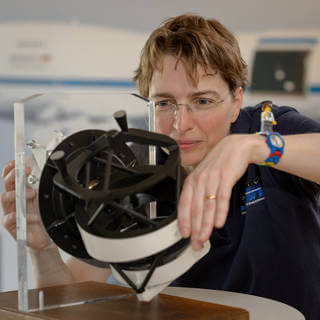 2016-05-15    Listentospacepod.com Glimpse of the Pluto System
2015-11           Zonta Amelia Earhart Fellow Explores New Horizons
2015-10-15   NorthJersey.com Community Life
2015-07-31   AAUW: How to get more women into STEM
2015-07-25   PBS News Hour: Meet Three Scientists Behind the Pluto Mission
2015-07-15   The Atlantic: The Women Who Rule Pluto
2015-07-10   NASA Profile: Deputy Project Scientist New Horizons
2015-06-19   This Week in Space Podcast: NASA Social New Horizons
2012-03-05   STEMinist Profile
2011-02-05    That Elusive Clarity
2009-06-23     Planetary Society LCROSS interview
2009-06-16    NASA Podcast: LCROSS-LRO Webcast
2009                    FrogMom: How Girls Can Become Better Scientists
2008-06-16     KQED Forum: NASA's Moon Mission
2008-12-12      AAUW Dialog: Meet Kimberly Ennico
2006-08-30      NASA Quest: LCROSS Payload Scientist
My presentations span Conference Talks to STEM-focussed events. I particularly enjoy creating, delivering and the Q&A after the General Audience talks.
2017
2017-04-20  "Latest Results from New Horizons" San Jose State University [

Department Seminar

]
2017-03-31 "The Origins Space Telescope" A talk on the next big idea for far-infrared astrophysics, a large cold aperture in space. Colloquia at the SOFIA Science Center [

Department Seminar

]
2017-03-11 "The Curiosity Effect" The 7th IEEE Integrated STEM Education Conference, Princeton, NJ [STEM

]

2017-01-14 "Adventuring in Science",  luncheon for 2016 Amelia Earhart Scholarship Winners from Zonta International District 9.[STEM

]
2016
2016-09-28 "Pluto Revealed! First Results from the Historic First Flyby of the Pluto System" Liverpool John Moores University, Liverpool, England [

Department Seminar

]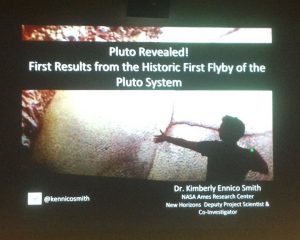 Photo by @AstronoSi
2016-08-18 "Evolving views of the outer solar system: new insights from NASA's New Horizons mission's historic first Pluto fly-by," NASA Goddard Space Flight Center, Greenbelt, Maryland [

Department Seminar

]
2016-06-15 "A New View of the Pluto System," Endeavor STEM Teaching Certificate Program Webinar [STEM

]

2016-06-29 "The Configurable Aperture Space Telescope," Society of Photo-Optical Engineering, Edinburgh, Scotland [

Conference Talk

]
2016-04-19 "The communication subsystem of NASA's Pluto Fly-by New Horizons," Spacecraft Seventeenth IEEE International Vacuum Electronics Conference [

Conference Keynote

]
2016-04-13 "A New View of the Pluto System," Boulder High School, Boulder, Colorado. Zonta International, Afterschool Club [

STEM

]
2016-04-11 "Formation models of the Outer Solar System and what the New Horizons Pluto Fly-by data shows, " Fermilab, Chicago, Illinois [

Department Seminar

]
2016-04-10 "First Results from the Historic First Fly-By of the Pluto System," College of Du Page, Chicago, Illinois [G

eneral Audience,

STEM

]
2016-03-18 "Pluto & Charon, Far from Boring Cold Worlds," Sherlin Lecture, Aurora Community College, Aurora, Colorado [

General Audience

,

STEM

]
2016-03-12 "Workshop on Spectroscopy," St Vrain Valley School District, Longmont, Colorado, grades 4-8 [

STEM

]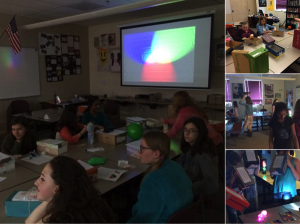 2016-03-07 "Ice Chemistry of Pluto & Charon," Department of Analytical Chemistry, University of Wisconsin-Madison, Madison, Wisconsin [Department Seminar

]

2016-03-04 "Pluto & Beyond; What we know now," Space Forum Series, Chautauqua, Boulder, Colorado. [

General Audience

]
2016-02-06 "Optimizing Expectations to Achieve Effective Engagement: Experiences in communicating space mission science and engineering," Annual Graduate Women in Science (GWIS) conference-Voices, State College, PA. [

Conference Keynote

]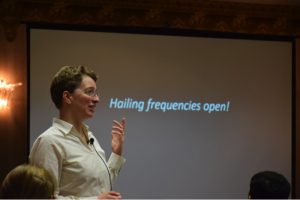 2016-02-05 "Geology of Pluto & Charon," Geosciences, Penn State University, State College, Pennsylvania. [

Department Seminar

]
2016-01-27 "A New View of Pluto", Celebrating Women in Science and Engineering, Clarke Planetarium, Salt Lake City, Utah. [

General Audience

,

STEM

]

2016-01-23 "Science of Pluto," Denver, Colorado. Zonta International Amelia Earhart Award Ceremony [

STEM

]
2016-01-11 "Latest Results from the New Horizons Mission," 2016 AAPT (American Association of Physics Teachers) Winter Meeting, New Orleans, LA. [

Conference Keynote

]
 2015
2015-12-17 "What's with Pluto?" Yale Elementary School, Aurora, Colorado. 4th grade [

STEM

]
2015-12-04 "What have we learned from exploring Pluto?" International Lunar Observatory Association (ILOA) Galaxy Forum, Scarsdale, New York [

General Audience

,

STEM

]
2015-11-10 "Pluto & Charon Light Curves," American Astronomical Society, Division of Planetary Sciences, Virginia [

Conference Talk

]
2015-10-11 "I *heart* Pluto," Northern Colorado Maker Faire, Loveland, Colorado [

General Audience

]
2015-10-05 "Pluto Revealed: First Results from the First Mission to this distant world," Immaculate Heart Academy, Washington Township, New Jersey [

STEM

]
2015-10-03 "Results from the New Horizons Mission," Northeastern regional AAPT (American Association of Physics Teachers) Meeting, Paramus, New Jersey. [

Conference Keynote

]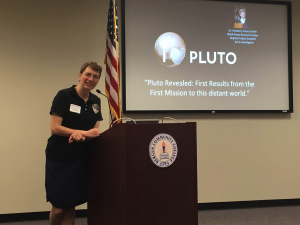 2015-09-25 "Telescope Teaser: A relook conventional telescopes with balloons and small satellites", Ball Aerospace, Boulder, Colorado [

Department Seminar

]
2015-08-31 "New Horizons successful completes the historic first flyby of Pluto and its moons," AIAA Space and Astronautics Forum and Exposition, Pasadena, California [

Conference Talk

]
2015-08-15 "Pluto Revealed," Skellig Star Party, Balliskellig, Ireland [

General Audience

]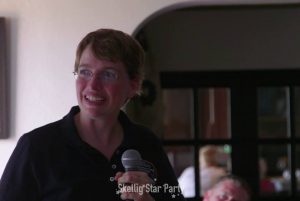 2015-07-31 "Frontier Exploration: NASA's New Horizons spacecraft reaches the Pluto System in July 2015," Project ASTRO, High School and Community College Science Teachers, Baltimore, Maryland [

STEM

]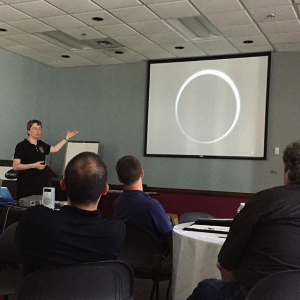 2015-06-06 "New Horizons Mission Communications and Operations", NASA Social, Laurel, Maryland [

General Audience

]
2015-05-23 "Women in Science" and "NASA Missions", Denver Comic Con Denver CO [General Audience,

STEM

]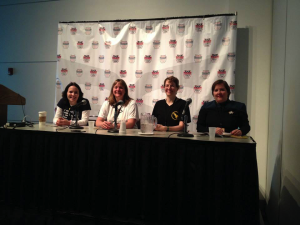 2015-04-28 "New Horizons Mission Status," NASA Goddard Space Flight Center, Greenbelt, Maryland [

Department Seminar

]
2015-04-18 "New Horizons," University of Colorado Astronomy Days/Interactive Planetarium Display, Boulder, Colorado [

General Audience

,

STEM

]
2015-03-11 Science Fair Judge, Thornton Middle School, Thornton, CO [

STEM

]
2015-03-03 "Configurable Aperture Space Telescope," Early Stage Technology Workshop-Astrophysics & Heliophysics, Arlington, Virginia [

Conference Talk

]
2014
2014-12-22 "The Science of New Horizons," Mount Stromlo Observatory, Canberra, Australia [

Department Seminar

]
2014-12-04 High School AP Chemistry Classroom lectures on Pluto Ice Chemistry, Brighton, Colorado [

STEM

]
2014-07-09 "The Science of New Horizons," Northrop Grumman, Latham, Maryland [

Department Seminar

]
2014-06-09 "My life in science research," P. Hillyer's 7th Grade, Matawan Aberdeen Middle School, New Jersey [Webinar,

STEM

]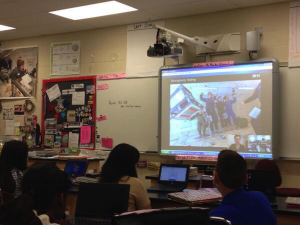 2014-05-11 Panel on Pluto and Trans-Neptunian Objects at Space Fest, Pasadena, California  [

General Audience

]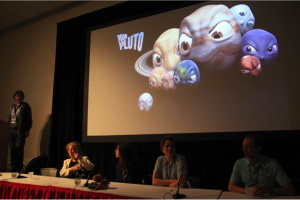 2014-04-11 Public talk on the New Horizons Mission (pre-flyby) to 250 students and general public at Aurora Community College [

General Audience

,

STEM

]
2014-03-13 "New Horizons Science Payload," Part of undergraduate class at University of Central Florida, Orlando, Florida  [

STEM

]
2014-01-08 "Microgravity Science Applications," Southwest Research Institute, Boulder, Colorado [

Department Seminar

]
2013
2013-11-21 "Value of Documentation," Part of a Technical Writing class at University of Maryland, College Park [

STEM

]
2012
2012-12-02 "Lunar Volatiles Science, LCROSS, RESOLVE & Others, The story continues," Brighton High School, Brighton, Colorado, Chemistry AP Students [

STEM

] 
2011   
2011-11-15 "Fly Early, Fly Often, Fly Safe." University of Colorado Students for the Exploration and Development of Space (SEDS) [

STEM

]
2011-06-15 ""Fly Early, Fly Often, Fly Safe." SETI Lunchtime Talk Series, Mountain View, California [

General Audience

]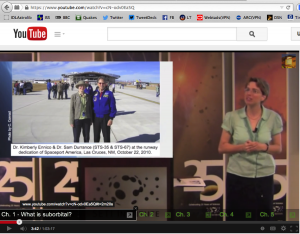 2011-05-11 NASA Ames STEP Program, Interactive presentation: LCROSS and NASA mission design, middle/high school students, ages 10-18 [

STEM

]
2011-04-19 NASA Career Chat with members of the National Science Teachers Association and their students [Webinar,

STEM

]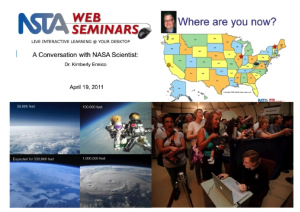 2011-02-28 ""Box of Rocks" : An experiment to study to evolution of regolith blocks in microgravity" and "Southwest Research Universal Imaging System (SWUIS) for astronomy and aeronomical observations from suborbital space vehicles," Next Generation Suborbital Conference, Orlando, Florida [

Conference Talks

]
2004-2010
Presenter American Association of University Women (AAUW) and Girl Scouts of Santa Clara County sponsored "Tech Time Science Club for Girls," a Monday evening 2-hour workshop series focusing on hands-on activities for a group of 30-40 Girl Scouts, grades 4-6. My workshops have been: 2004 & 2006 "Spectroscopy: Fingerprints of Light." 2005 & 2007 "Infrared Light: More than Your Eyes Can See." 2009 "Impact Crater Formation on the Moon" and 2010 "Engineering Design Practices at NASA." [

STEM

]
2010
2010-09-18 International Observer the Moon Night (InOMN) in Boulder, CO; Interactive LCROSS/LRO video presentation, hands-on activities, adults and kids [

STEM

]
2010-07-21 "LCROSS and Future Directions for Lunar Research," Lunar Science Forum, NASA Ames Research Center, Moffett Field, California [

Conference Talk

]
2010-02-19 "LCROSS: the lunar hitch-hiker that made an impact (literally!) on how we view our Moon and its science secrets." NASA Speakers Bureau, Sacramento Astronomy Club, Sacramento, California [

General Audience

]
2010-02-18 Career Day, King's Academy, Sunnyvale, California [

STEM

]
2010-02-10 "LCROSS Mission Results," Southwest Research Institute, Boulder, Colorado [

Department Seminar

]
2010-01-20 "LCROSS Mission Results," University of California, Santa Cruz, Geology & Planetary Science Seminar Series [

Department Seminar

]
2009
2009-07-15 Girl Scout tour through NASA Ames Research Center, Moffett Field, California [

STEM

]
2009-07-17 "Astronomy & Powers of Ten," NASA Speakers Bureau Millbrae Summer School Program, Millbrae, California [

STEM

]
2009-07-19 Moonfest volunteer, NASA Ames Research Center, Moffett Field, California [

STEM

]
2009-07-20 Spoke to the Young Lunar Scientist group at NASA's Lunar Science Institute Summer Program [

STEM

]
2009-07-24 "Solar System," Montessori school, College Ave, Palo Alto [

STEM

]
2009-09-23 "LCROSS mission", Luna Philosophie coffee house-style talk, San Francisco, California [General Audience]
2008
2008-12-17 "LCROSS Mission," John Moores University, Liverpool, England [

Department Seminar]

2008-02-15 "LCROSS Payload", Astronomer Workshop, NASA Ames Research Center, Moffett Field, California [

Conference Talk

]
2007
2007-03-15 "LCROSS Mission," Presentation to the Italian Space Agency, NASA Ames Research Center, Moffett Field, California
2007-12-18 "Infrared Astronomy Telescopes in Space," Presentation to the Missile Defense Agency, NASA Ames Research Center, Moffett Field, California
2006
2006-06-10  "Ice Chemistry in Quiescent Dark Clouds," SOFIA lunchtime seminar series, NASA Ames Research Center, Moffett Field, California [

Department Seminar

]
2006-05-20 "Grism Performance for mid-IR (5-40 microns) Spectroscopy," Ground-based and Airborne Instrumentation for Astronomy, SPIE Astronomical Telescopes & Instrumentation meeting, Orlando, Florida [

Conference Talk]

2006-01-20"Astrobiology and the AstroBiology Explorer," Planets and Life Seminar Series, University of Texas at Austin [

Department Seminar

]
2004
2004-07-22 "Astrobiology, Astrochemistry, and the AstroBiology Explorer," Institute of Astronomy, Cambridge, England [

Department Seminar

]
2004-07-28 "Astrobiology, Astrochemistry, and the AstroBiology Explorer," Astrophysics Research Institute, John Moores University, Liverpool, England [

Department Seminar

]
2003
2003-08-04, 2003-09-19 "A Beginner's Guide to Infrared Astronomy," "General Astronomy" and "What It is Like to be a NASA Scientist" 5th grade schools California & New Jersey [

STEM

]
2003-10-21 "Astrobiology, Astrochemistry, and the AstroBiology Explorer (ABE)," NASA Ames Research Center, Moffett Field, CA [

Department Seminar

]
2002
2002-08-24 "Development and Testing of a 1024 x 1024 pixel Si:As IBC Detector for SOFIA-like Applications" and "Large Format Si:As IBC Array Performance for NGST and IR Space Telescope Applications", SPIE Conference, Waikoloa, Hawaii [

Conference Talks

]
2001
2001-07-17 Space Camp California presenter "Playing with Cool Space Toys for Space Astronomy," Space Camp grades 7-8, Mountain View, California [

STEM

]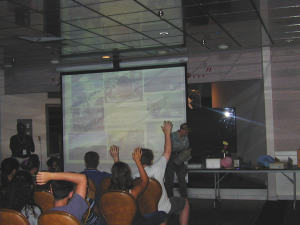 2000
2000-03- 09 "Mid-IR Prospects for NGST" and "The Multi-band Imaging Photometer for SIRTF," NASA Ames Research Center, Moffett Field, California [

Department Seminars

]
1996-1998
1999-10-01 "An Integrated Science Instrument Module for the Next Generation Space Telescope," University of Colorado, Boulder, Colorado [

Department Seminar

]
1999-08-26 "An Integrated Science Instrument Module for the Next Generation Space Telescope," NASA Goddard Space Flight Center, Greenbelt, Maryland [

Department Seminar

]
1999-04-22 "Recipes for Building Astronomical Instruments," US Naval Academy, Annapolis, Maryland [

STEM

]
1999-04-20 "Conceptual Study of the NGST Science Instrument Module" NGST Technology Symposium, Woods Hole, Massachusetts [

Conference Talk

]
1999-03-20 "OH Suppression Spectroscopy for Large Telescopes," Steward Observatory Symposium, University of Arizona, Tucson, Arizona [

Department Seminar]

1999-01-06 "Near Infrared Faint Object Spectroscopy," 193rd American Astronomical Meeting AAS Meeting, Austin, Texas, Thesis Presentation [

Conference Talk

]
Presenter on CCDs, optical telescopes, and general astronomy topics for the National Science Week, Cambridge, UK, through Cambridge University and the Association of Women in Science and Engineering (AWISE) [

STEM

]