June - July 2000....

To escape the heat of Arizona, I decided to revisit my old home, England and meet up with lots of old friends and enjoy their company and the sights.

Here are some photos of some of my travels, and a bit of English history and heraldry at the end.

-Kim


Avebury.... stone circles and avenues....


Stonehenge....

| | | |
| --- | --- | --- |
| Almudena and Sean in front of the magical stones | | |
Oxford.... visiting Marina....

Castles in Wales....
White Castle....
Skenfrith...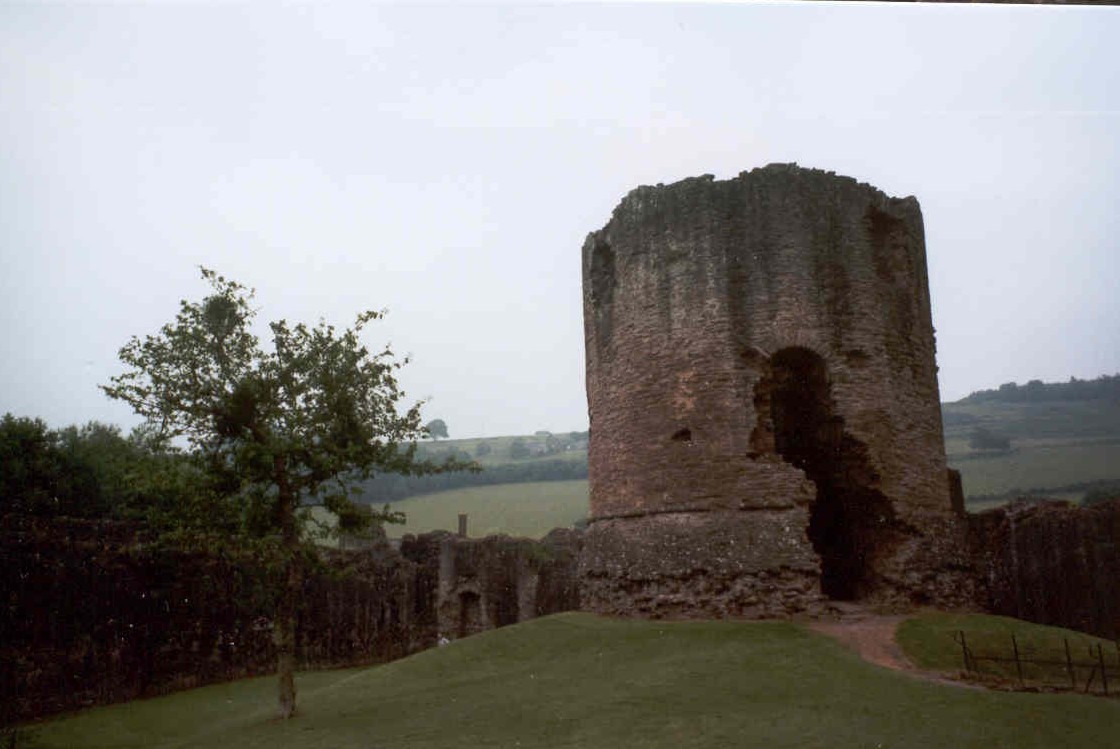 Grosmont....

Raglan...
St Albans....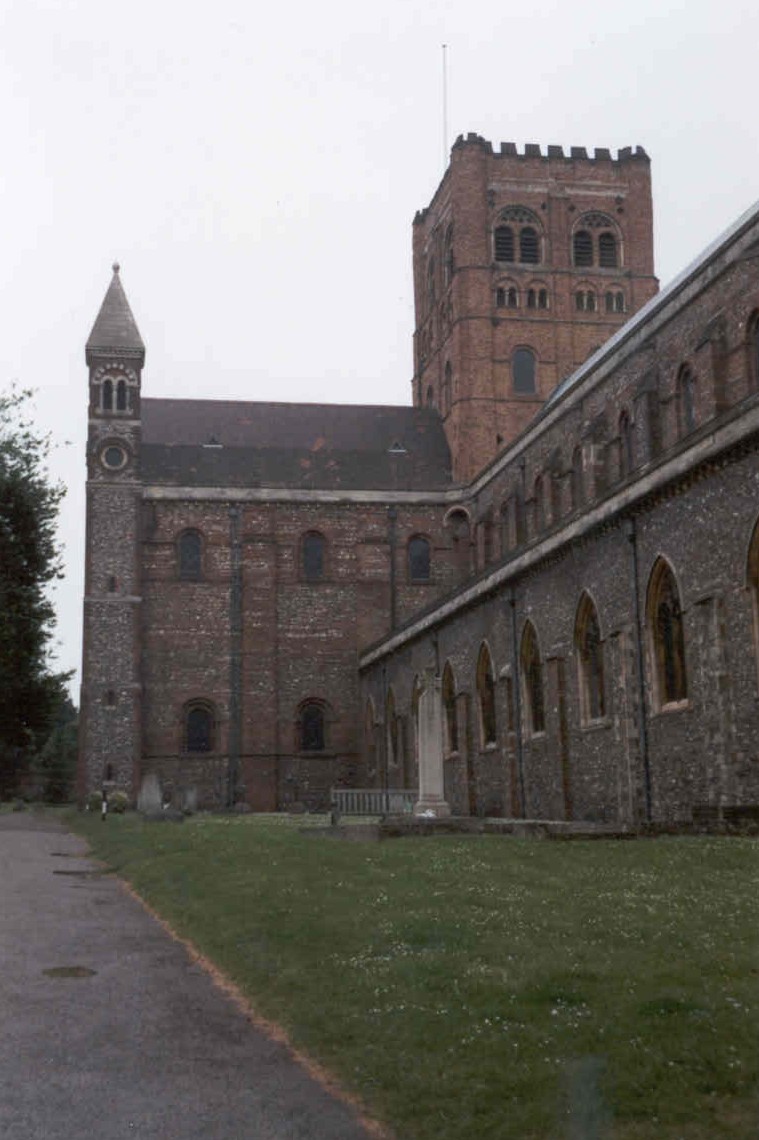 Salisbury Cathedral...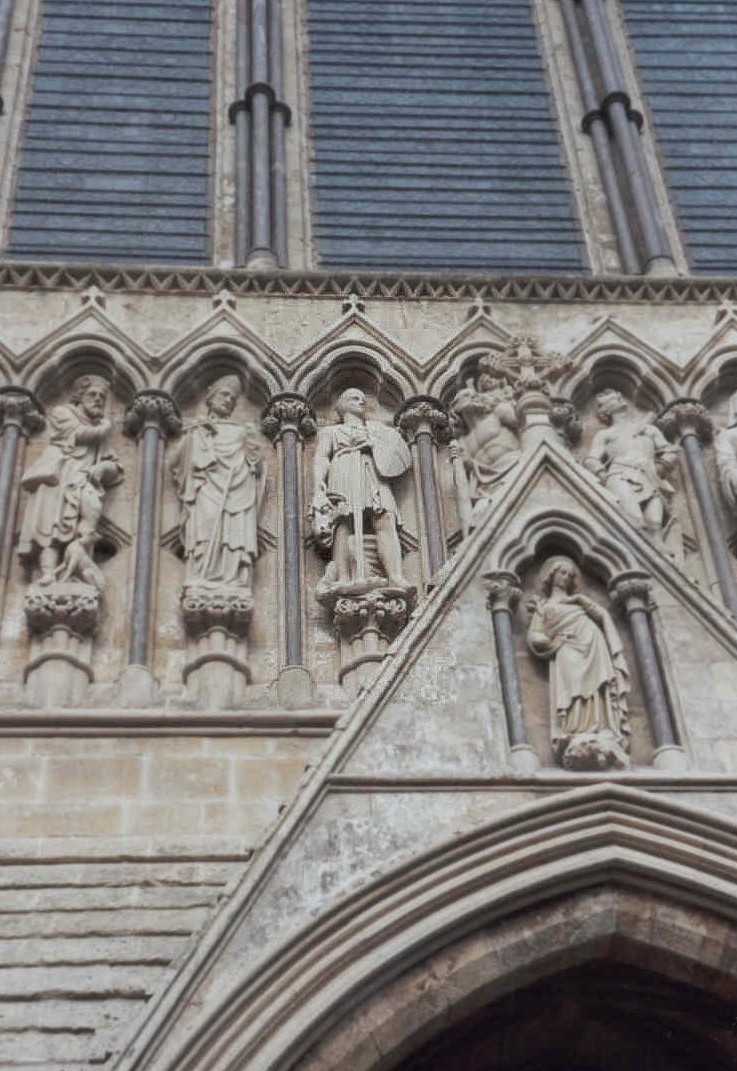 Tewkesbury and environs.....
Deerhurst Church....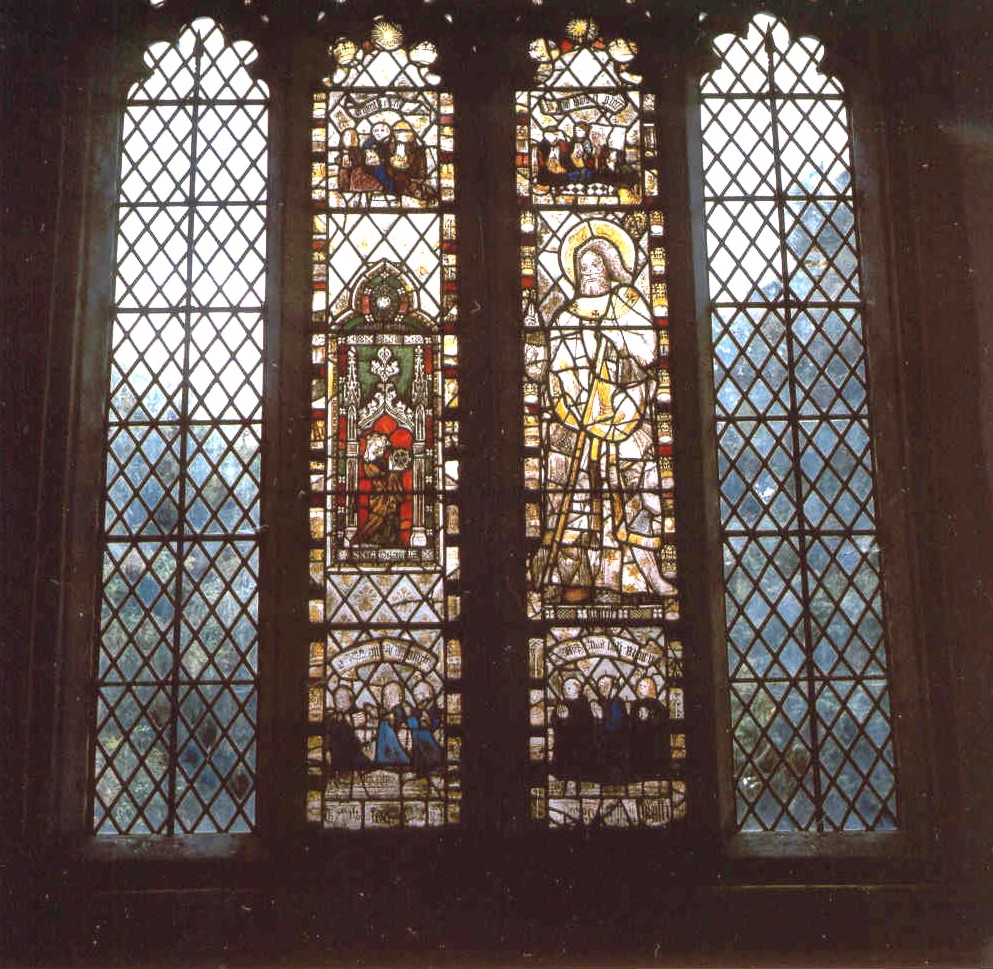 Window at west end of south aisle.
Left: St Catherine (early 14th century).
Right: St Alphege (mid 15th century).
St Alphege was a monk at Deerhurst in the late 10th century and was martyred in Greenwich in 1012. St Catherine (of Alexandria) is holding a wheel, her symbol. She is the patroness of learning and wisdom The story is told that when she touched the wheel, it was destroyed. She was then beheaded but her body was whisked away by angels. Her persecutors put her to death by breaking her upon a wheel with spikes. Martyred c310 in Alexdrian, Egypt.
Tewkesbury Abbey.... (photo by Alan Whiting)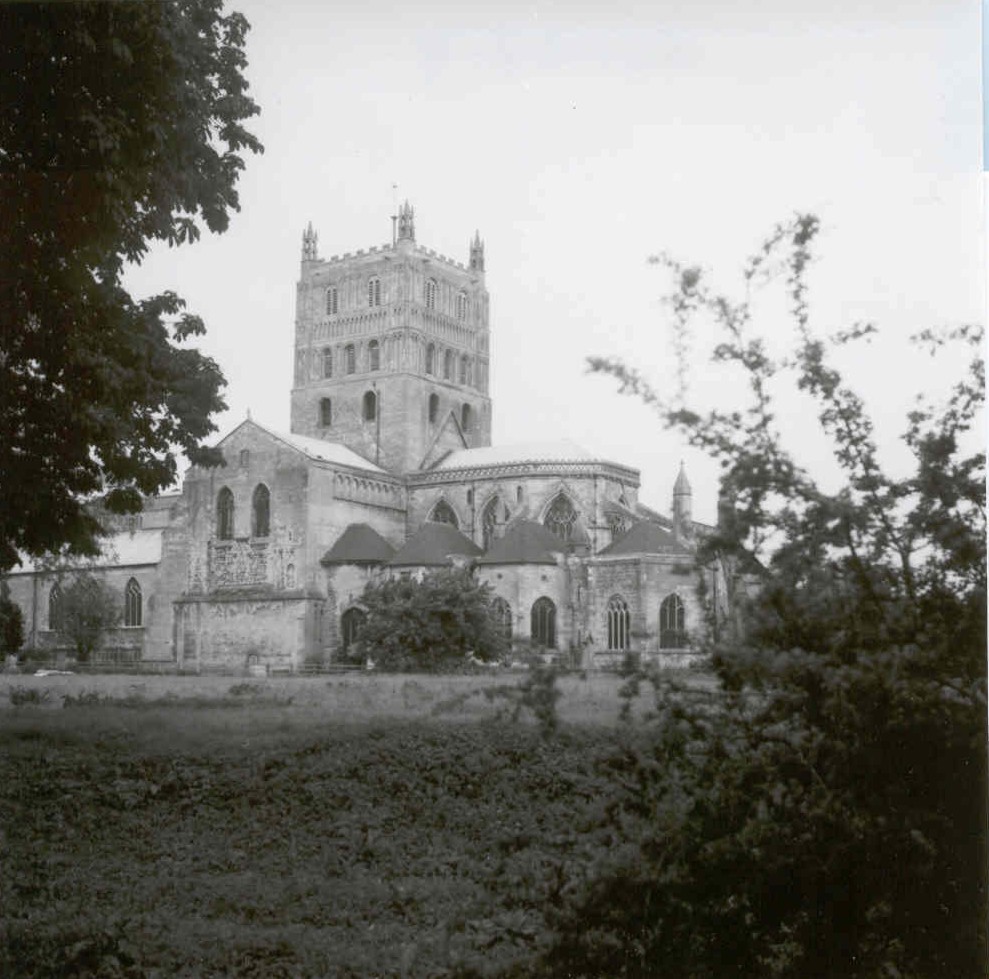 Tewkesbury on the River Avon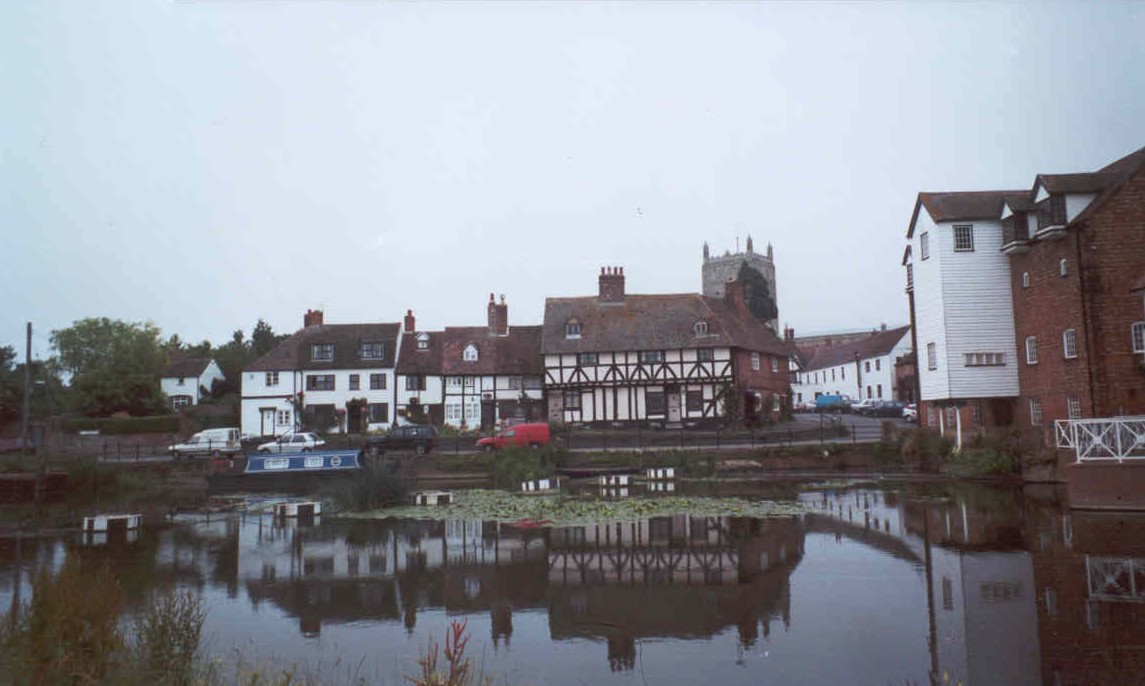 Heraldry in Tewkesbury....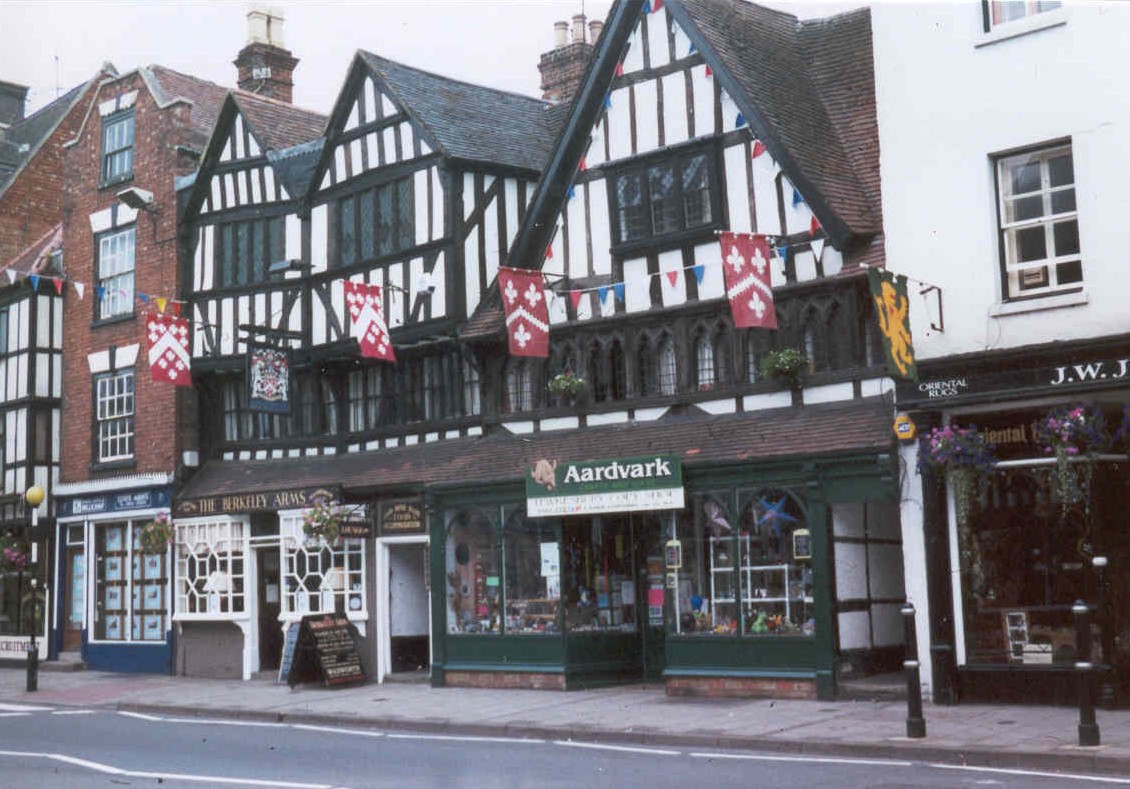 Left two flags: Sir Maurice Berkeley of Beverstone (1424-1474), Yorkist supporter. The pub is rightly named "The Berkeley Arms," for indeed these flags are. Arms: Gules, a chevron between ten cross crosslets formy argent. He was knighted after the Battle of Tewkesbury for his prowess.
Rightmost two flags (above the Aardvark store). Sir Laurence Rainsford of Rainford (d, 1490), Yorkist. His arms are, gules, a chevron engrailed between three fleur de lys argent. It is said that Queen Margaret of Anjou (wife to Henry VI) had fled to his manors after the disastrous ending (husband still encarcerated by Edward and her son, the Prince of Wales died during the battle) to her cause for the Lancastrian right to the throne at the battle of Tewkesbury.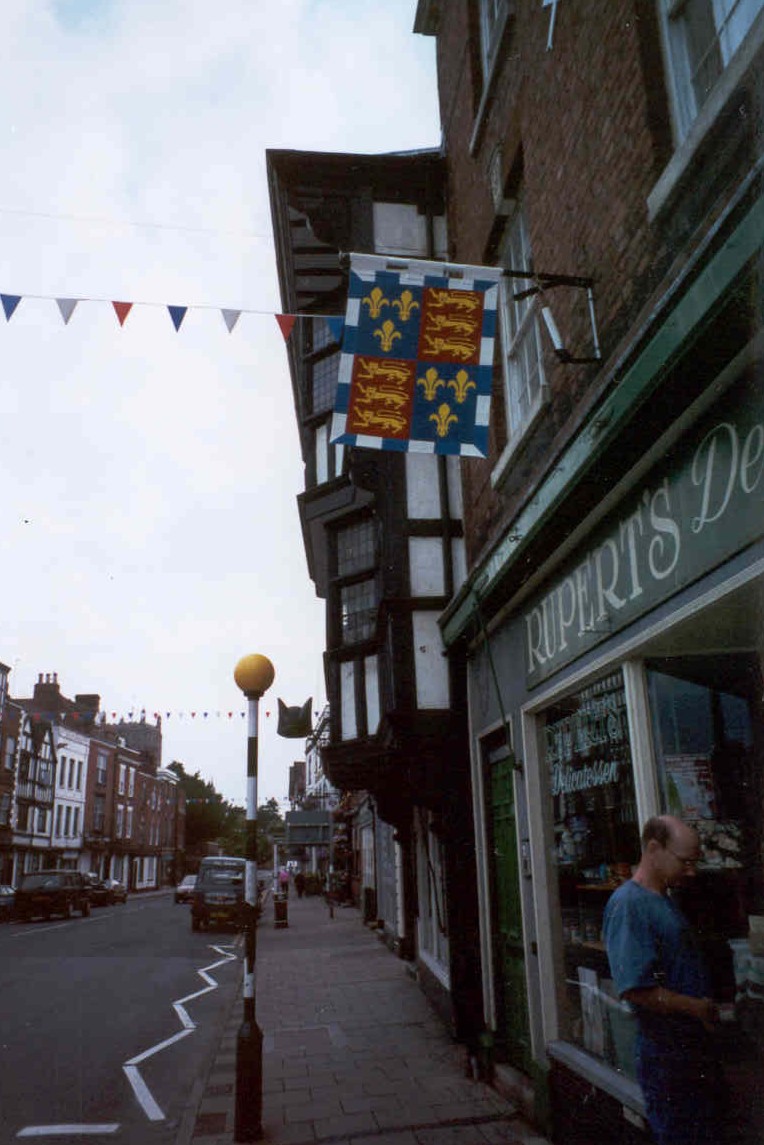 Edmund Beaufort (1439-ex. 1471), Commanded the Lancastrian army, known as Duke of Somerset. Executed after the battle of Tewkesbury (May 4th, 1471). Arms: France Modern and England quarterly, a bordure compony argent and azure.
The arms look familiar to Cantabridgians, or so I would hope! They are identical to the arms of Christ's College and St John's College. These colleges were founded by Lady Margaret Beaufort (1443-1509), great granddaughter of John of Gaunt (and hence, great great granddaughter of the York King Edward III). Edmund Beaufort was also great grandson of the same John of Gaunt descending through a different path. Edmund survived the battle of Tewkesbury and sough refuge in the Abbey nearby. But as since he was the most dangerous of King Edward (IV)'s foes, he was tried and executed within days of the battle.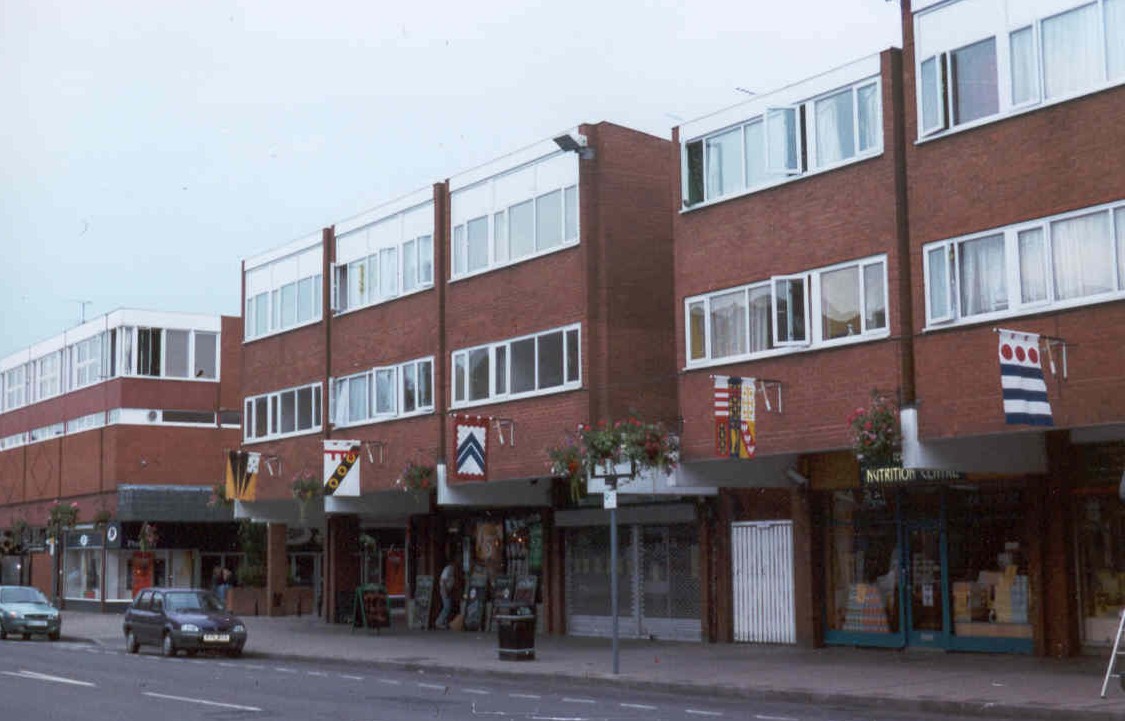 1 Henry Wrottesley (d.1471), a Lancastrian supporter and killed at Tewkesbury. Arms: Or, three piles sable a canton ermine.
2 Sir John St. Lo of Chew Magna (d. 1498), a Yorkist supporter. Arms: Argent, a bend sable charged with three annulets or, a label of three points gules.
3 Sir Jeams Tryell of Gipping (1445-1502), a Yorkist supporter, knighted after Tewkesbury. Arms: Argent, two chevronels azure within a bordue engrailed gules.
4 Queen Margaret of Anjou (1430-1482), wife to King Henry VI of England (Lancaster), who was taken prisoner after the Battle of Tewkesbury, but later pardoned by King Edward IV.
Look at these arms: Quarterly of six, 1. Barry of eight pieces argent and gules (Hungary), 2. France ancient with a label of three points gules (Naples), 3. Argent, a cross portent between four crosslets or (Jerusalem), 4. France ancient within a bordure gules (Anjou), 5. Azure, semee of cross-crosslets, two barbells hauriant back to back, or (Bar), 6. Or, a bend gules charged with three eaglets displayed argent (Lorraine).
Notice another similarity in these arms? Well, again my Cambridge friends should recognize them as similar to the arms of Queens College, Cambridge, which was actually co-founded by Queen Margaret, with the latter merely "differenced" by a bordure vert (green). Ironically, the college was re patroned years later by Queen Elizabeth Widville (or Woodville), wife of King Edward IV, old King Henry IV's adversary (husband to Queen Margaret) to the throne. And from that point onward the Queens College, now appropriate in the plural, was official. All in the family, it would seem to be.
But, the arms of Queen Elizabeth Woodville are not part of the Queens College' arms. She too has an amazing set of arms, quarterly of six as well! Although not shown here in the photograph, here is how a herald would describe her beautiful arms: Quarterly of six, 1. Argent, a lion rampant double-queued gules crowned or (Luxemburg), 2. Quarterly, I and IV, gules, an estoile argent, II and III, France ancient (Baux), 3. Barry of ten argent and azure, a lion rampant gules (Cyprus), 4. Gules, three bends argent, on achief per fess argent and or a rose gules (Ursins), 5. Gules, three pales vair, on a chief or a label of five points azure (St Pol), 6. Argent, a fess and a canton conjoined gules (Woodville). The arms of St Pol are also found on the shield of Pembroke College,
Cambridge. Got to love this trivia!
5 Thomas Grey of Crawdon (1435-1495), a Yorkist. Arms: Barry of six argent and azure, in chief
three torteaux gules. He was knighted after the battle for his courage, only being before a minor
cadet in the service of his own lord.

---

Quick heraldry translations (for the impatient)

Colors: gules (red), azure (blue), argent (silver/white), or (gold/yellow), vert (green), purpure
(purple), sable (black)

Other terms used:
chevron: inverted V
cross-crosslet: small cross with each limb crossed
fleur de lys: lily ancient form, symbol of France
canton: rectangular division in top dexter corner
pile: triangular wedge usually starting from the chief
bend: diagonal from dexter chief to sinister base of shield
dexter: right hand side from the viewpoint of the person holding shield or left side to the viewer
sinister: left hand side from the viewpoint of the person holding shield or right side to the viewer
chief: upper part of shield
base: lower part of shield
annulet: ring, or disc with a hollow center
torteau: another name for a red (gules) disc
barry: divided by three, five or more horizontal lines into an even number of pieces
bordure: border
semee: scattered with a small number of objects
haurient: fish head upward as trying to breathe