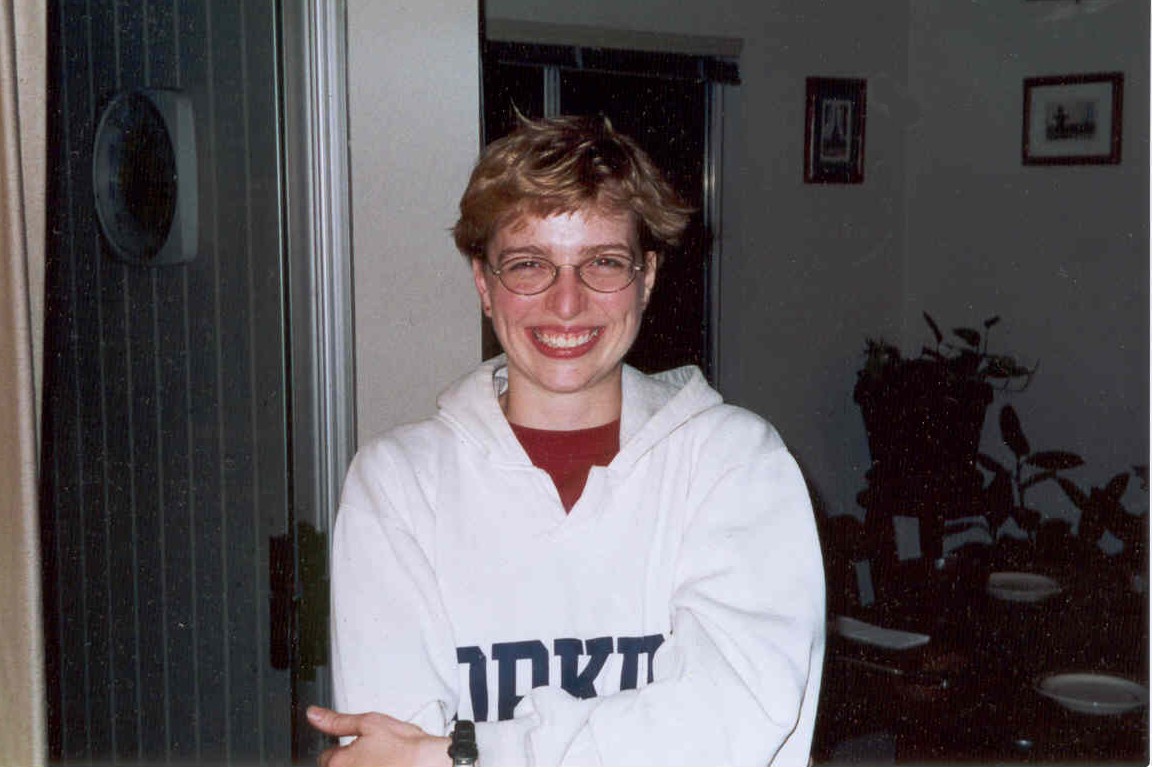 Kim says "Welcome to California!"
Left to Right: 1. Yosemite Valley, 2. Half Moon Bay coastline, 3. Windfarm East Bay, 4. Golden Gate Bridge, San Francisco


11 June 2001, new photos added.
Entry date: June 1, 2001
Mountain View, CA, USA
To all my dearest friends,
Greetings from the West!
I like old movies, classic stuff. In one film I saw recently, a boy was telling his father (played by Jimmy Stewart) that some event (in this case it was a solar eclipse) would not be happening again until 1999, when it was about 1950 in the film's story timeline. For the audiences of that day, it would have seemed years away, but here we are at 2001 and time potters on.
I think I am just about settling in here in sunny California, although lately some of the mornings have been so wonderfully fog-rich they remind me of my mornings in England. The weather is absolutely 'maaarhvelous' I guess, for the majority of people, being about 60s F during the day, dropping down to the 40s F at night in January, to now 80s F during the day, dropping down to 50s at night in June.
I moved out here in September (2000), and I cannot believe that almost 9 months have gone by. I apologize for my silence these many moons, but transitions are often very hard for me. And if you kept up with my life these past two years, you will remember that I have lived in five apartments and in three states and juggled lots of things simultaneously. Another reason for my silence was due to time required to heal a broken heart. I know most of you know how utterly crazy I was about this certain chap named Doug, and in fact, he is featured in many of my travel journals on my web pages. Well, he took it upon himself to give up on the relationship right as I boarded the plane from Tucson, AZ, to San Jose, CA, in September 2000. Not my choice, as you can sense. Well, time moves on and so will I.
But now I can tell you all about some interesting adventures I have been having on the west coast of the USA, in hopes of enticing as many of you as possible to pop on by. And I have been every so happy that so many already have taken me up on this offer!


My Mountain View, CA apartment

Sis & Mum, October 2000, San Francisco

IHA Class of 1990 10th year Reunion
(November 2000)
Mrs Cook's Math Class
Tricia Hughes-Grey, Nancy McNamara, Rita Kondoleon, Joy Hoffman, Kristen Harrison, Katie Bambrick, and me


Thanksgiving 2000 at the Ennico's... (l to r), Laurie, Scott, Grandma, Topher, Mum, Dad, Ashley, Kim, Aunt Carol, Brittany, Uncle Ed. Who took the photo?
Living out here is interesting. I am located about 30 miles south of the City of Saint Francis, known to most as San Francisco, home of the trolleys, Alcatrez, and the earthquake of 1989 during the World Series. I live in rather a large hamlet called Mountain View, right in the heart of Silicon Valley. As since I have evolved into a major nerd (as if I ever was not! ?, but I think my purchase of my home computer in December, installing my own second hard drive, and making it dual Windoze and Linux, has put me over the edge of extreme nerdiness), I guess I should feel right at home, among HP, Sun, Netscape, Lycos, Yahoo, etc. businesses which live out here.




View of Silicon Valley, looking east over the valley from the Santa Cruz foothills
Mountain View, CA, is nice, reminding me a bit of my hometown, Westwood, NJ, with a central avenue and a train station. It differs by having its own Performing Arts Center and a wonderfully modern and large library. The best thing is that my apartment is located only about 2.5miles away from NASA Ames, and I can cycle to/from work on generous bike lanes.



Bay Bridge from Pac Bell Stadium

Center-Left field at Pac Bell when the fog rolled in!


More pictures as the fogged rolled in during the game!

Another great thing is that the SF Giants home stadium, PacBell park, is only an hour train ride away. I've been to two night games now, the last one in the fog! Unfortunately the Giants lost against the Colorado Rockies that evening, but it still was surreal (and a bit cold) as the fog rolled in.
As you all know, I lived in several places this past two years, moving from Arizona to Colorado back to Arizona and now onto California and it is nice to know that I can stay put for a while, or so I hope. My job at NASA Ames is quite demanding and interesting. I am juggling about four projects now, a little less lab work than I would like, but the exposure to new technology and space related research is unmatched.
NASA Ames Research Center is a "smallish" center, relatively speaking, since I only know of NASA Goddard Space Flight Center in Greenbelt, MD. There are about 3000 employees at Ames, 1000 of us being these civil servants (of which I am one, and I am still trying to figure out what it all means), and 2000 being outside contractors. The mission of Ames is three folded: there is the Astrobiology Insititute (where I am loosely connected via the space sciences division), work in Aeronautics (with the famous on base wind tunnel experiments, sadly which are slowly being closed down), and the Center for Information Technology (lots of supercomputing, Crays, and automation for space missions).



NASA Ames: View of Hangars 3,2 (left), runway, and Hangar 1 (right). View from my office window.
Where I work in Code S, Division SS, Branch SSA (Space Astrophysics), I work with chemists, astronomers, physicists, engineers, programmers, in support of future missions. The building where I work is also rich with Mars researchers, biologists, geologists, and meteorologists, in addition to the disciplines I mentioned above. It is definitely a different atmosphere than at a University where the chemistry department would be in another building or perhaps on the other side of the campus from the astronomy department, rather than sharing the same floor and building.



NASA Ames: View of the East, Diablo Mountain Range with hangars 3 & 2 to right.
I'm supporting a design for an Explorer mission, which if selected by NASA this year, will bring about amazing new discoveries and understandings of organic molecules in space. The mission is called ABE, the AstroBiology Explorer, and it complements the NASA Ames astrochemistry groups' work here in identifying and cataloging different types of organic molecules. We will use ABE to study the interstellar medium, young stars, old planetary nebulae, solar system objects, and galaxies, to match their spectra to known organic signatures and hopefully understand the evolution of organics in space, the building blocks of life in space. It's very exciting!
I'm also involved in testing detectors for NGST, the Next Generation Space Telescope, and SOFIA, the Stratospheric Observatory For Infrared Astronomy. Although both missions are still years away, NGST 2010-15ish, SOFIA 2005, both detector development paths are quite robust and ambitious. My work in helping select successful prototypes and testing first and second generation devices will affect the ultimate design choice for the science grade devices.
Some images of the guys I work with at Ames....



| | | |
| --- | --- | --- |
| Craig McCreight, Barney (purple dewar, not dinosaur), and Bob McMurray | Mark McKelvey, Kim Ennico, Bill Ogilivie | John Estrada (and the evil PC) |
Ames is also giving me my freedom to direct my future career. I am presently looking into future projects and directions to which I will take my infrared instrumentation and astronomy background. With SOFIA here in 2005, a United 747 with a 2.4m telescope put in its belly, infrared astronomy will be so utterly exciting!
Well, now that you have learned a little bit about what I have been doing workwise, I end my short letter with some pictures of my new life here in California. This state is amazing, with mountains, valleys, ocean beaches, cliffs, fresh fruits and veggies, great fresh seafood, big trees, deserts, glacial valleys, earthquakes (I was hiking in the Santa Cruz mountains when a 4.5 hit San Jose area) & geological phenomena, along with fine arts, theatre, music, and ethnic diversity.
Kim gone West (and liking it)

San Francisco....


Baker Beach, Golden Gate Bridge, SF


Alcatrez Island (foreground), Angel Island, and sailboats


Looking back on the Golden Gate from the Bay.


Kim & Mariana, San Francisco


Alcatrez Island, SF Bay


View of the bay, looking East. Angel Island (left), Alcatrez (center), city coastline (right)
Other nearby excursions....
| | |
| --- | --- |
| South of Half Moon Bay, Mariana, Montse, April 2001 | Santa Cruz mountains hike, Mariana, Montse, April 2001 |
Big Basin State Park -- coastal redwoods (big trees!)
| | | | |
| --- | --- | --- | --- |
| Martina & Hugh at Big Basin, climbing over the fallen trees. | Friend Martina and the big tree! | Friend Tim, tall man as he is, still small compared to the big trees.... | |
In May, my good friend Pete and I trounced around Kings Canyon, Sequoia and Yosemite National Parks. An amazing collection of beautiful waterfalls, big trees, high canyon walls... wonderful scenery. The waterfalls of Yosemite were exquisite, and the best time of year to visit that park is April-May where the falls are flowing in great form (before they dry up).
Sequoia National Park (even bigger trees!)
Pete & Kim, mere pygmies amongst the great giants!
The giant sequoia grow naturally only on the west slope of the Sierra Nevada, at elevations between 5,000 and 7,000 feet.
Sequoia National Park is the country's second oldest national park. behind Yellowstone.
Kim & Pete, mere pygmies among the giant trees!


Kim and the mother of them all, General Sherman, the world's largest living thing.

It is estimated to be between 2,300 and 2,700 years old. Height is 275 feet. Trunk estimated to weigh 1,385 tons. Circumfrence at bottom about 103 feet.
Yosemite National Park
Wonderful waterfalls & glacially carved structures

Bridalveil Falls

Vernal Falls, from Glacier Point

Lower Yosemite Falls

Yosemite Falls (upper & lower) from Glacier Point

Yosemite Falls

Nevada Falls

Vernal Falls

Bridalveil Falls

Vernal Falls

Vernal Falls
| | | |
| --- | --- | --- |
| Bridalveil falls and Yosemite Valley | Yosemite falls (uppper and lower) and the valley | Half dome, Liberty Cap, Nevada Falls |
| Lower Yosemite Falls | Merced River | Vernal Falls flowing into Merced River |
| Navada Falls in the distance | View from the top of Nevada Falls | Yosemite Falls |
| | | |
| --- | --- | --- |
| View from Glacier Point at sunset | East view from Glacier Point at sunset | Sunset at half dome |
Kings Canyon National Park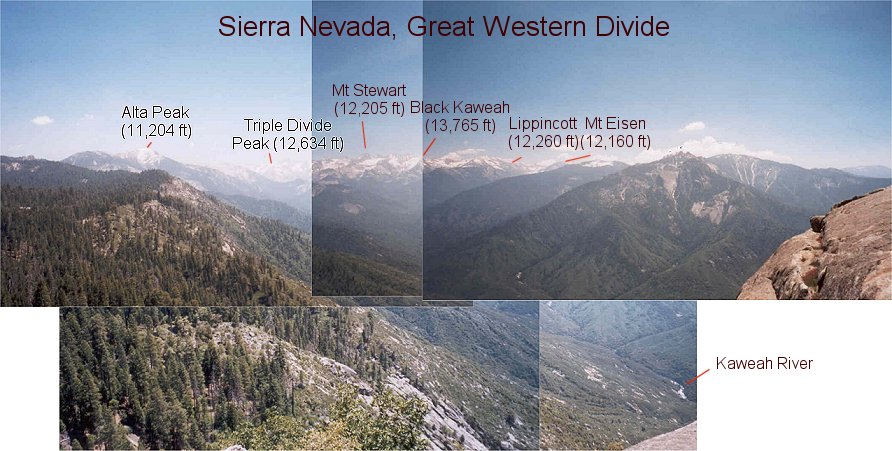 View from Moro rock, looking West.
| | | |
| --- | --- | --- |
| Kings Canyon | Kim & Pete and the Sierra Nevada, made for one another! | Grizzly Falls & Kim, Kings Canyon NP |
| Views of the Great Western Range, from Moro Rock, Kings Canyon | Roaring River Falls (left), Pete & Mist Falls (right) | Views of Merced River |


Monarch Wilderness, Kings Canyon NP
National Parks photos by Pete Mangiafico & Kim Ennico, PacBell Stadium photos by Marie.